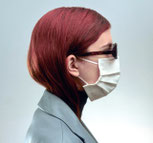 My concern about the coronavirus has been ongoing, but for whatever reason this question emerged on the morning of 6 Sept 2021 (8:39 a.m. CDT in West Allis, WI). 
In asking this question I was thinking about the virus itself (SARS-CoV-2) rather than the disease of COVID. So, do we consider the significator to be the sixth house of illness, or do we consider instead the natural ruler of viruses? Because the virus causes the disease, the two are essentially the same thing. And as it turns out, either choice in this chart gives us the same answer.
Mercury is the natural ruler of things that are small, numerous, and mobile—a fitting description for a virus. Look at Mercury below: it's sitting exactly on the Ascendant. In my view this suggests that Mercury is the correct significator. The virus certainly was weighing on my mind at the time of the question.
Mercury is in Libra. (I find this sign placement interesting, given that Libra is the cardinal air sign and SARS-CoV-2 is a novel airborne pathogen, but that's extraneous to judgment.) Checking the ephemeris, we see that Mercury will continue its forward march in Libra until 25 degrees, when it turns retrograde. In horary terms this means the planet will stay in Libra 'forever'. Translated into plain English, this means the virus will remain a threat indefinitely.
If we take instead the sixth house to signify the virus/disease, then our significator is Jupiter, ruler of Pisces on the sixth house cusp. Jupiter is also in an air sign, and it is also moving retrograde: same interpretation. The virus will be with us indefinitely.
Today there is a growing consensus that COVID will become endemic, meaning it will remain in circulation (hopefully in a more benign form eventually). The current Omicron surge shows we are nowhere near vanquishing this virus. I find it pretty amazing that Horary was several months ahead of the curve in predicting this truth.
Photo credit, above: Death to the Stock Photo, Fanette Guilloud.
Photo credit, below: "Family Portrait," Sept 2020. My own photo.