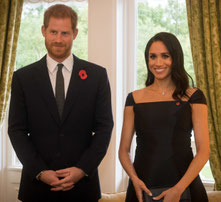 On Jan 8, Prince Harry announced that he and his wife, Meghan, would be stepping back as senior members of the Royal Family and would be splitting their residency between the UK and North America going forward. The announcement made headlines everywhere and was quickly dubbed "Megxit."
Yesterday morning, Jan 18, the Queen formally announced that an initial agreement between the parties had been reached. Rather than granting Harry the 'new progressive role' within the royal family that he sought, he is out. Though he will remain a Prince, Harry will forego state financial support and will relinquish his military titles, along with the designation 'HRH' (which Meghan loses as well).  They will also pay British taxpayers back for last year's renovation of their home, Frogmore Cottage. Clearly, this is a major event in Harry's life.
Harry has long been my favorite British royal (after his mother, Diana). I had already written one post about him, which you can read here. This piece looks at Harry's current charts to see how they are reflecting this major development.
Progressions to Jan 1, 2020
Prog Asc 5.15 Pisces
Prog MC 20.12 Sagittarius
Prog Sun 27.42 Libra
Prog Moon 7.35 Virgo
Prog Spirit 25.22 Aries
Prog Fortuna 15.08 Capricorn
Prog Asc (5.15 Pisces) opposes natal Mercury (5.12 Virgo). This is just the first of several Mercury-related testimonies.
Mercury is Lord 5 and 6 in Harry's natal chart. More generally, Mercury and its corresponding soul part, Necessity, signify 'where the shoe pinches.' It's about choosing one thing over another where the choices are mutually exclusive. Harry is departing from tradition and separating himself from the rest of his family. This can't have been an easy choice to make. By all reports, Meghan had been savaged by the British tabloid press after an initially warm reception. Harry made clear in October that he did not want Meghan to suffer from the media glare in the way that his mother had suffered. I would guess that this was his primary motivation for the decision. (Note: Harry said as much tonight in a charity event speech, which you can read about here.)
The prog Moon (7.35 Virgo), Harry's natal Lord 7, is conjunct natal Mercury (5.12 Virgo) and, two degrees on the other side, conjunct natal Fortuna (9.45 Virgo). This suggests that the break has everything to do with Meghan's well-being.
Prog Spirit (25.22 Aries) is conjunct natal Mercury by antiscion (5.12 Virgo) a third testimony on this theme.
Note that prog Venus (0.50 Sagittarius) is newly out of detriment. Venus is Lord 4/9 in the natal chart and, more generally, signifies 'love stuff' as well as 'romantic partner'.  I hope this means that things will improve for Harry and Meghan going forward. It does suggest that some of the pressure has been released.
Harry's Solar Return for 2020 – Sep 19, 2019 (19 Leo Asc)
The first thing I noticed in this chart is Uranus conjunct the MC. Understanding Uranus from the original myth, this speaks both of a painful rupture and of new possibilities. 
NA Courage (12.17 Taurus) is conjunct natal Spirit (12.58 Taurus), a testimony we can take literally: it must have taken great courage to step away from royal service and all that goes with it. NA Courage is further emphasized by its conjunction to the SR Asc (19.29 Leo) by antiscion.
In a repeat of the Mercury theme, SR Mercury (3.06 Libra) is conjunct natal Courage (4.09 Libra).
SR Jupiter (16.23 Sagittarius), return Lord 5, is closely conjunct natal Mars (16.57 Sagittarius). NA Necessity also falls on this exact degree (16.16 Sagittarius) and both are closely conjunct SR Saturn (13.54 Capricorn), return Lord 7, by antiscion. This confirms  that Harry's choice to break away is tied up with Archie and Meghan.
Harry's Lunar Return for Dec 10, 2019 (27 Virgo Asc)
This lunar return covers the Jan 8 announcement.
Mercury here is Lord Asc (Harry's 'Me') and it is newly in detriment. This likely signals the personal downside of Harry's decision.
NA Courage (20.04 Gemini) falls on this LR's North Node (9.25 Cancer) by antiscion, putting it in a spotlight.
NA Love (0.30 Gemini) is conjunct NA Captivity (28.45 Cancer) by antiscion. Captivity can also signify 'Release from Captivity.' This seems an elegant testimony that Harry's love for Meghan and Archie requires him to break free in hopes of charting a better path.
NA Victory (17.52 Taurus) opposes the natal MC (17.02 Scorpio), perhaps showing the tensions between personal needs and public obligations.
LR Lord 3, Mars (13.41 Scorpio), falls on natal Lord Asc, Saturn (12.50 Scorpio), repeating the theme of courage. The Sun in this LR (17.37 Sagittarius) falls on natal Lord 10, Mars (16.57 Sagittarius), another expression of this.
Derived Lunar Return for Dec 6, 2019 (16 Virgo Asc)
Jupiter is newly in fall here, where it serves as Lord 4. This drop from dignity into debility speaks to the downside of this event, just as Mercury's drop in dignity did in the SR.
DLR Moon (13.55 Aries) falls on this Asc (16.31 Virgo) by antiscion. This Asc degree also picks up natal Love (14.35 Virgo), putting all of them in a big spotlight for the month. Love is the reason Harry has made this choice.
Finally, Neptune (15.57 Pisces) opposes this DLR Asc (16.31 Virgo), showing us the earth-shaking nature of this change for Harry.
Here are just a few articles on "Megxit" that I found while writing this post:
https://www.nytimes.com/2020/01/19/world/europe/harry-meghan-royal.html
https://www.bbc.com/news/uk-51164232
https://www.yahoo.com/news/prince-harry-meghan-royal-highness-184404918.html
Harry and Meghan's website is: https://sussexroyal.com/
Thanks for stopping by!
Kathryn at The Sun's Joy
THE SEVEN KEY ARABIC PARTS ("SOUL PARTS")
Note!  These formula remain the same whether the birth is by day or by night.
Part of Spirit (aka Solis or Abundance), 'super Sun':  Asc + Sun - Moon
Part of Fortune (aka Fortuna or Hunger), 'super Moon':  Asc + Moon – Sun
Part of Love, 'super Venus':  Asc + PS – PF
Part of Necessity, 'super Mercury':  Asc + PF – PS
Part of Courage, 'super Mars':  Asc + PF – Mars
Part of Victory, 'super Jupiter':  Asc + Jup – PS
Part of Captivity, 'super Saturn':  Asc + PF – Saturn
Their positions in Prince Harry's natal chart are:
Spirit: 12.58 Taurus (natal arc = 58.23 degrees below the Dsc)
Fortuna: 9.45 Virgo (natal arc = 58.24 degrees above the Dsc)
Love: 14.35 Virgo (natal arc = 63.14 degrees above the Dsc)
Necessity: 8.08 Taurus (natal arc = 63.13 degrees below the Dsc)
Courage: 4.09 Libra (natal arc = 82.48 degrees above the Dsc)
Victory: 1.57 Virgo (natal arc = 50.36 degrees above the Dsc)
Captivity: 8.16 Scorpio (natal arc = 58.31 degrees below the Asc)
KEY TO ABBREVIATIONS
Asc = Ascendant (1st house cusp)
Dsc = Descendant (7th house cusp)
LR = Lunar return
MC = Midheaven (10th house cusp)
NA = Natal arc (method of placing the Arabic Parts in the same place relative to the Asc/Dsc as they hold in the radix)
Prog = Progressed
SR = Solar return
CHARTS, in order of appearance below:
Prince Harry, Natal Chart: 15 Sept 1984, 4:20 pm BST in Paddington, England; 11.21 Capricorn Asc.
Prince Harry, Solar Return: 16 Sept 2019 in Paddington; 19 Leo Asc.
Prince Harry, Lunar Return: 10 Dec 2019 in Paddington; 27 Virgo Asc.
Prince Harry, Derived Lunar Return: 6 Dec 2019 in Paddington; 16 Virgo Asc.
PHOTO CREDITS
Above and Below:
1) By Office of the Governor-General - GG.Govt.nz, CC BY 4.0, https://commons.wikimedia.org/w/index.php?curid=75201678
Below:
2) By Northern Ireland Office - Prince Harry and Ms. Markle visit Belfast's Crown Liquor Saloon, CC BY 2.0, https://commons.wikimedia.org/w/index.php?curid=71140783
3) By Office of the Governor-General - GG.Govt.nz, CC BY 4.0, https://commons.wikimedia.org/w/index.php?curid=74019185