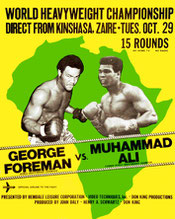 The Rumble in the Jungle is widely regarded as one of the greatest sporting events of the 20th century.  It is without question one of Ali's greatest fights!  The event took place on October 30, 1974 in Kinshasa, Zaire (now the Democratic Republic of Congo).  Ali, a former heavyweight champion, faced off against George Foreman, the undefeated heavyweight champion at that time.  Ali won the fight by knockout in the eighth round.
You will surely recognize an iconic sports photo from this fight.  At bottom I've included an image inspired by the original photo.  I'm sure you will recognize it immediately.  What a fabulous shot!
In this post I will briefly describe some of the testimonies in Ali's directed charts for the Rumble in the Jungle. As usual, we will start with the progressions.
Progressed Points (set for Jan 1, 1974)
Prog Asc 14.48 Virgo
Prog MC 12.43 Gemini
Prog Sun 29.41 Aquarius
Prog Moon 13.12 Aries
Prog Fortuna 28.19 Libra
Prog Spirit 1.17 Leo
The prog Sun (29.41 Aquarius) is about to leave its detriment.  Things will soon be looking up for Ali!  This is a classic testimony, marking 1974 as an important year in the entire arc of his life.
Prog MC (12.43 Gemini) falls on natal Jupiter (11.57 Gemini) and therefore also on natal Love by antiscion, as Love and Jupiter are joined conjunct in the radix.  The MC picking up natal Jupiter-Love marks this as a year when Ali's career potential will strike gold.
Prog Fortuna changes sign this year, coming under the rulership of Mars, the natural ruler of sports and boxing.
Prog Mercury (12.21 Aquarius Rx) is conjunct the natal Moon (12.25 Aquarius), and therefore also to its own natal position (13.30 Aquarius).  This signals a year during which the natal Moon-Mercury potential (e.g., 'float like a butterfly') will manifest.
Solar Return - Jan 17, 1974 (5.06 Gemini Rising)
The SR MC (12.56 Aquarius) picks up the natal Moon-Mercury conjunction (12-13 Aquarius), putting these in a spotlight for our attention.  The progressions picked up this pair, and now we see the solar return doing so as well.  Furthermore, the SR Moon (27.51 Scorpio) is conjunct SR Mercury by antiscion (2.44 Aquarius/27.16 Scorpio). The pair are also in mundane conjunction with the natal Moon-Mercury pairing.
NA Love (4.49 Taurus) is conjunct Ali's natal Mars (3.03 Taurus), while SR Pluto (6.48 Libra) is conjunct NA Courage (6.43 Libra). These testimonies put an emphasis on Mars themes, quite appropriate for this year of Ali's most famous fight.
Lunar Return - Oct 23, 1974 (28.34 Cancer Asc)
The LR Sun (0.23 Scorpio) has just moved out of fall, showing a big upturn generally for 'Me'.  This is similar to the Sun testimony noted in the progressions.  
NA Love (28.17 Gemini) falls on natal Victory (27.05 Gemini), another repetition of the important Jupiter-Venus symbolism in Ali's radix.
NA Courage (0.11 Sagittarius) falls onto natal Captivity (0.32 Sagittarius).  Perhaps Captivity stands in for natal Lord 7 here, showing Ali dominating his opponent.
Derived Lunar Return – Oct 17, 1974 (10.51 Taurus Asc)
The natal Sun (27.17 Aquarius falls near the DLR MC (24.15 Capricorn), putting it in a big spotlight.
The DLR Sun (24.13 Libra) and DLR Mars (23.05 Libra) are both conjunct the royal fixed star Spica, appropriate for a fighting event destined to bring Ali great fame.
NA Courage (12.28 Virgo) falls on the natal North Node (14.15 Virgo), amplifying Courage and its themes.
NA Spirit (25 Aries) is conjunct natal Fortuna by antiscion (4.40 Virgo/25.20 Aries).  This is like a New Moon, signaling the start of a new cycle for 'Me'.
NA Fortuna (26 Taurus) falls onto the natal Uranus/Pluto/Spirit conjunction, so important in the radix.  This signals a month when Ali taps into the potential of that natal cluster, realizing his potential for abundance and personal power. 
Here's a little gem to end with today, a video of one of Ali's famous rhyming banters.  Enjoy!
https://www.youtube.com/watch?v=ejE-Do9PeJw
 For easy reference to parts 1, 2, and 3 of this natal series, follow these links:
https://www.kathrynsilvestre.com/2016/07/12/muhammad-ali-part-1/
https://www.kathrynsilvestre.com/2016/09/02/muhammad-ali-part-2/
https://www.kathrynsilvestre.com/2017/04/18/muhammad-ali-part-3/
The Seven Key Arabic Parts
Note: The formulas remain the same whether the birth is by day or by night.
Part of Spirit (Solis/Abundance), 'super Sun':  Asc + Sun - Moon
Part of Fortune (Fortuna/Hunger), 'super Moon':  Asc + Moon – Sun
Part of Love, 'super Venus':  Asc + PS – PF
Part of Necessity, 'super Mercury':  Asc + PF – PS
Part of Courage, 'super Mars':  Asc + PF – Mars
Part of Victory, 'super Jupiter':  Asc + Jup – PS
Part of Captivity, 'super Saturn':  Asc + PF – Saturn
Their positions in Muhammad Ali's natal chart are as follows:
Spirit: 4.23 Leo (15.08 degrees above Asc)
Fortune: 4.40 Virgo (15.08 degrees below Asc)
Love: 19.14 Cancer (30.17 degrees above Asc)
Necessity: 19.48 Virgo (30.17 degrees below Asc)
Courage: 2108 Sagittarius (58.23 degrees below Dsc)
Victory: 27.05 Gemini (52.26 degrees above Asc)
Captivity: 0.32 Sagittarius (79.39 degrees below Dsc)
Abbreviations Key
Asc = Ascendant (1st house cusp)
Dsc = Descendant (7th house cusp)
LR = Lunar return
MC = Midheaven (10th house cusp)
NA = Natal arc, a method of placing the Arabic Parts in the same place relative to the Ascendant as they held in the radix
Prog = Progressed
SR = Solar return
Charts (in order of appearance below)
Ali, Muhammad, Radix: Jan 17, 1960, 6:35 pm in Louisville, KY; 19 Leo Asc
Ali, Muhammad, Solar Return: Jan 17, 1974 in Louisville; 5 Gemini Asc
Ali, Muhammad, Lunar Return: October 23, 1974 in Louisville; 28 Cancer Asc
Ali, Muhammad, Derived Lunar Return: October 17, 1974 in Louisville; 10 Taurus Asc
Photo Credits
Above:
By Source, Fair use, https://en.wikipedia.org/w/index.php?curid=42234585
Below:  
1) Ian Ransley AL: "The King. Muhammad Ali: the greatest boxer ever," Flickr (CC): https://www.flickr.com/photos/design-dog/24154575813;
2) Joshi Bhavya, "Muhammad Ali Quotes: A Tribute to Legendry Boxer - Muhammad Ali," Flickr (CC): https://www.flickr.com/photos/143157631@N07/27438680756