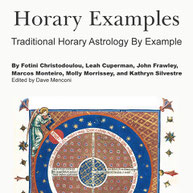 "Horary Examples" is a collection of detailed, step-by-step explanations of horary judgments on a wide range of subjects.  Editor Dave Menconi came up with the idea and brought the project to fruition in the fall of 2016. I am one of the contributing authors, along with my teacher, John Frawley, and four of my colleagues. I was honored to write the Introduction and the Glossary, as well.
**UPDATE @ Jan 2022: This book is no longer actively in publication, but you can still get copies via Amazon or other online outlets**
Adoption
A client wondered if a young relative would keep her baby.  If she didn't, the querent and her husband intended to adopt the baby themselves.  "Will they put the baby up for adoption?"
Barrett
In 2011 Wisconsin had a recall election to see if the current governor would remain in office.  Our querent hoped the challenger would win.  "Will Barrett win?"
Brewers
A fan wondered if Milwaukee's professional baseball team would advance to post-season play.  "Will the Brewers make the playoffs?"
Funded Seat
There was one funded seat in my daughter's class at school; I hoped she would be the lucky recipient.  "Will my daughter get the funded spot?"
Happier
An unhappily married wife wondered if things would be better for her if she divorced her husband.  "Will I be any happier if I leave him?"
Notebook
The querent had been looking for a treasured notebook from her graduate studies but couldn't locate it.  "Where's my notebook?"
Own Child
A married querent whose biological clock was ticking wondered if she'd be able to conceive. "Any chance of having my own child?"
Renter
The querent's tenant was significantly behind on her rent; eviction was the likely next step. "Will my tenant send full payment?"
Romance
The querent was attracted to a coworker; she had high hopes for a romance between them. "Any chance of a romance with X?"
Romney
I asked this question prior to the 2012 US Presidential election.  This chart is good practice for sorting out which houses to use--not necessarily what you might think.  "Will Romney win the US Presidency?"
Rose Bowl
I've been a sports fan of my alma mater's teams, the Badgers, for decades.  The football Badgers had been to the Rose Bowl the year before and lost.  "Will the Badgers win the Rose Bowl?"
Zaza
My elderly cat had fallen ill.  After a night in the animal hospital, she was not herself.  "Will Zaza recover?"
If you don't have "Horary Examples" yet, purchase it today!  https://www.amazon.com/Horary-Examples-Traditional-Astrology-Example/dp/1635351618/ref=tmm_pap_swatch_0?_encoding=UTF8&qid=&sr=
The image above is the book's front cover.