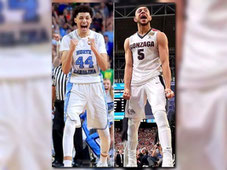 Tonight's NCAA Men's Basketball Final will tip off in less than an hour!  Tip-off is set for 6:20 p.m. MST in Glendale, AZ.  (That's 8:20 p.m. where I live.)  The University of North Carolina Tar Heels are favored over the Gonzaga University Bulldogs in the battle for the 2017 NCAA championship trophy.
I'll be honest with you: my record with sports events charts is not exactly stellar, despite repeated study of our essential reference, Sports Astrology.  I do well when there's one or two major testimonies.  I don't do so well when there are conflicting minor testimonies to sort out.  Alas, tonight's tip-off chart looks to be the latter type (chart below).  This is definitely an Uncooperative Chart!
North Carolina is represented by Venus, ruler of Libra on the first house cusp.  Gonzaga is represented by Mars, ruler of Aries on the seventh house cusp.  Normally we include Lords 10 and 4 in the equation, but these are the Moon and Saturn, respectively.  The Moon must play the more important role of the flow of action in the game.  Saturn reportedly is unreliable when in the role of Lord 10 or 4, so maybe it's best if we don't factor either of these in as house lords.
Alas, there is nothing in this chart that's exactly by the book.  There are no planets within a few degrees of a relevant cusp, either bodily or by antiscion.  The Moon, as the flow of action, first squares Jupiter (which is irrelevant), then opposes Pluto.  This could mean trouble for the favorites, but Pluto is also placed bodily in the fourth house, which could mean trouble for Gonzaga.  Complicating things further, Pluto (19 Capricorn) is widely conjunct Fortuna (13 Capricorn)—which is supposed to *favor* the underdogs.  Conflicting testimonies!
Saturn is the dispositor of Fortuna.  Venus (North Carolina) applies to square Saturn in about two degrees.  The text doesn't say, but could this be testimony in their favor?
Here's what I think.  Pluto sitting inside the fourth house is a troubling sign for Gonzaga.  Based on this, I'm calling the game for North Carolina.
Will I want to eat my words?  If I do, it won't be the first time! :)  I'll be back after the game with results.
Posted 7:35 p.m. on April 3, 2017
At 8:24 p.m. CDT:
Tip-off was just a minute late, 6:21 p.m. MST.  The final chart appears below and isn't significantly changed from the one I discussed above.  Fortuna is 12 Capricorn rather than 13, a degree further away from Pluto.
OUTCOME:
At 10:40 p.m. CDT:
What a nail-biter of a game!!!  But I lucked out and got this one right.  It was a close game, back and forth, until the last minute or so when North Carolina made a few key plays and got ahead by five.  Gonzaga couldn't catch up after that.  
It's hard to see the suffering on the losing team.  But so it goes.  Congrats to both teams on a hard-fought game, and congrats to the Tar Heels on the win!
And that's it for this season.  Goodbye for now, sports fans, and thank you for checking in!
PHOTO CREDIT:  Getty Images, found on wfaa.com (via Google Images)