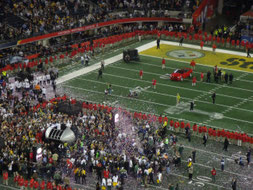 Kickoff was about 40 minutes ago.  The Packers are favored over the Pittsburgh Steelers.  The chart appears below, set for Feb 6, 2011, 5:35 p.m. CST in Dallas, TX (12 Leo Asc).
The Packers are signified by the Sun, ruler of Leo on the first house cusp; their prize is Venus, ruler of Taurus on the MC.  The Steelers are signified by Saturn, ruler of Aquarius on the seventh house cusp; their prize is Mars, ruler of Scorpio on the IC.
The Moon's movement often tells the story in sports event charts.  Here, the Moon goes first to square the Nodes, then to conjunct Jupiter, then to square Venus as Lord 10, signifying a Packer's win.  This testimony should be enough, but then the Moon will conjunct the antiscion of Fortuna at 4.49 Aries. This testimony is supposed to favor the favorites.
Also, Mars (as Lord 4, a win for the Steelers) is closely combust the Sun (which also happens to be Lord 1). Combustion means destruction, so this is a clear testimony against the Steelers.
I'll be back at the end of the game to discuss the actual results!
OUTCOME:
Congratulations, Packers, on a Super Bowl win!!!  
I was too nerve-wracked to watch for much of this game, including near the end.  (I'm a nervous viewer anyway, but it's even worse when I've made a prediction.)  I kept telling myself, "Astrology works.  The chart says the Packers will win.  Relax."  And so it proved!
This win is especially sweet for us Wisconsinites.  Enjoy the celebrations, Packer fans!!!
First published Feb 6, 2011 on silvestreastrology.blogspot.com
PHOTO By John Seb Barber from Leeds, UK - DSCF1654, CC BY 2.0, https://commons.wikimedia.org/w/index.php?curid=56156666