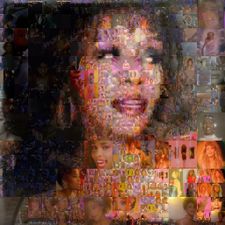 Whitney Houston died on February 11, 2012.  According to the official report from the Los Angeles coroner's office, her death was due to "drowning and effects of atherosclerotic heart disease and cocaine use" (washingtonpost.com, 3/22/12).
Houston's chart progressed to January 1, 2012 shows the Moon beginning the year at 19 Capricorn, exactly square natal Jupiter (Lord Asc).  Knowing that Moon travels about 12 degrees during a year of progression, we see that it is heading out of detriment. Major shifts in dignity are one thing to look for in death-related charts.  Progressions are not precise in their timing, so we are not looking at when this shift happens, just that it will happen.
Progressed Fortuna begins the year at 10 Virgo, conjunct natal Mercury.  Pluto (treated like a fixed star) is conjunct Fortuna, just as it is conjunct Mercury in the radix.  This certainly adds intensity to the triple conjunction of natal Mercury-antiscion Jupiter-antiscion Moon.  In the progression, Fortuna conjunct Pluto is an additional testimony of something nasty about to happen to Houston.
Let's take a look now at Houston's final Solar Return of August 9, 2011 (15 Libra Asc, second chart below).
Remember that the Sun in a Solar Return does not move, but the other planets do.  SR and natal Lord 8, Venus, is two degrees from the Sun ("me") and moving towards it.  Next we see two testimonies on the Asc/Dsc axis:  SR Saturn (natural significator of death) is conjunct the Asc while natal Moon (17 Aries) is setting at the Dsc.  Note, too, that Sun's antiscion (13 Taurus) is right on the SR 8th house cusp.  It is the combination of these testimonies that provides convincing evidence of death.  Finally, SR Mercury has recently lost dignity at 29 Leo Rx and is conjunct the fixed star Regulus.  Fixed stars are often prominent in solar or lunar returns where death occurs.
Houston's Lunar Return for the month of death is dated Jan 29, 2012 and is the third chart below (23 Libra Asc).
The Lunar Return Asc is on Spica.  The natal 2nd/8th house axis is 24 Aries/Libra, so this LR Asc picks up the natal 8th cusp.  Natal Arc Fortuna is 23 Gemini, near Al Hecka (a violent fixed star) on the 9th house cusp (discussed further below).  Antiscion natal Part of Spirit is 21.58 Gemini.  Squaring both is LR Mars at 22 Virgo Rx, applying to oppose antiscion natal Mars (21.20 Pisces) and LR Venus (18 Pisces), LR and natal Lord 8. 
One technique I am just learning is derived returns. For example:  Take Houston's 2011 Solar Return and from that chart, calculate the lunar return for the month of death.  This produces a derived lunar return chart dated Jan 20, 2012 (25 Taurus Asc, fourth chart below).
Note that the Sun is high in the sky at 0 Aquarius, newly in detriment: things are going downhill for Houston. Venus at 7.52 Pisces falls closely conjunct natal Asc of 8.25 Pisces, while antiscion Fortuna is 7.31 Virgo, setting at the natal Dsc.
What about the event chart for the date of death?  Most astrologers put too much emphasis on transits, but it's worth a quick look at the chart, cast for February 11, 2012 at 8:00 p.m. (estimated time of death) in Houston's natal location (23 Virgo Asc, fifth chart below).
The transiting Moon (17.27 Libra) is opposite natal Moon and in mundane conjunction with the Moon and Jupiter in the radix.  Transiting Venus (natal Lord 8) is conjunct this Asc by antiscion, as is transiting Lord 8, Mars.  Fortuna is on the 9th cusp, as it was in the Jan 29 lunar return above.  Jupiter and/or the 9th house cusp can be significant in death charts, as if showing the native departing on the great journey back to God.
Rest in peace, dear Whitney Houston.
First published Nov 20, 2012 on silvestreastrology.blogspot.com
PHOTO CREDITS:
Above, by QThomas Bower, "A Look Back at Whitney Houston," Flickr: CC.
Below, both by Simeon87 - Own work, CC BY-SA 3.0, https://commons.wikimedia.org/w/index.php?curid=19014643 and https://commons.wikimedia.org/w/index.php?curid=19014608.