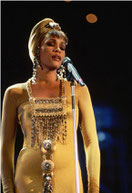 This is part three of a natal study of the late singer Whitney Houston.  Here we take a look at the progressions and returns for her career breakthrough and marriage.  Houston's birth chart is the first in the gallery below (8 Pisces Asc).
The first major turning point in Houston's career was in 1982, when producer Clive Davis discovered her talent. What was going on in her progressions at that time?
Progressed MC is in the last degree of Venus terms (5 Capricorn), marking a time when Venus stuff can manifest (Venus here being natural significator of the arts);
Progressed Moon ("me") is trine natal Jupiter, Lord 10 (career);
Fortuna begins the year on Pollux, a royal star, which seems relevant to the initiation of fame;Progressed Sun ("me") and Venus are conjunct, although this is not new.  It began a few years earlier, and the two will stay within a degree of each other for a number of years as her career takes off.
Houston's debut album was released in February, 1985.  This was the first in a string of positive and productive years for her career.  Progressing her natal chart to Jan 1, 1985, we see the following:
Progressed Asc is 14 Aries, first degree of Venus terms (activating Venus stuff, as above);
Progressed Sun and Venus are tightly conjunct in the same degree (7 Virgo);
Fortuna (1 Virgo) will cross progressed Sun, progressed Venus and natal Mercury this year.
Houston's Solar Return for Aug 8, 1984 (26 Aries Asc, second chart below) covers the period of the album's debut. What evidence here supports what is in the progressions?
Moon is in a spotlight position high in the sky near the SR MC;
Natal Arc Fortuna is 26 Sagittarius, exactly conjunct antiscion SR Jupiter;
SR Mercury is conjunct antiscion natal Moon at 12 Virgo, close to its own natal position of 10 Virgo.
1987 was another big year for Houston, bringing her second album and such hits as "I Wanna Dance with Somebody."  Progression to Jan 1 gives an Asc of 17.55 Aries, conjunct Houston's natal Moon.  Antiscion progressed Moon (8 Scorpio) is conjunct natal Fortuna.  Progressed Venus conjuncts natal Mercury at 10 Virgo. Remember that whenever the Moon, Jupiter, or Mercury are involved they are all involved, being so intertwined in the radix.
The year 1992 brought the release of the film The Bodyguard along with its hit, "I Will Always Love You," a Dolly Parton song beautifully interpreted by Houston.  This song became the bestselling US single of all time. This is also the year of her marriage to Bobby Brown. 
Houston's chart progressed to Jan 1, 1992 shows compelling testimonies of the year's events.
Progressed Asc of 26 Aries begins Saturn terms, a time when Saturn stuff can manifest in the life. Saturn is natal Lord 11 and Lord 12 (along with its natural significations).  This period marks the beginning of Houston's drug troubles, as her fame reaches a peak and her marriage begins.
The progressed Moon will cross the natal Sun by antiscion this year, which is like a new Moon phase in the life.
Progressed Fortuna trines natal Moon-Jupiter this year, and its antiscion is exactly conjunct progressed MC (14 Capricorn).
Progressed Mars is 26 Libra opposite progressed Asc, repeating the idea of trouble beginning.
There are no Venus testimonies in these progressions, nor does Mercury (as Lord 7) figure in.  However, both speak strongly in the corresponding Solar Return of Aug 9, 1991 (2 Sagittarius Asc, third chart below):
SR Venus and SR Mercury are exactly conjunct at 5 Virgo;
SR Moon (12 Leo) conjuncts natal Venus and will soon conjunct the Sun, signifying a new cycle and joining two major female-male symbols.
The Lunar Return for June 24, 1992 (17 Leo Asc, fourth chart below) reveals plentiful evidence of Houston's marriage:
LR Asc is 17 Leo, conjunct natal Sun;
LR Saturn opposes at 17 Aquarius, right on the LR Dsc and in mundane conjunction with natal Mercury (natal Lord 7);
LR Jupiter (natal Lord Asc) is 8 Virgo, exactly conjunct natal Dsc;
Natal Arc Part of Spirit is 17 Sag, conjunct natal MC;
Natal Arc Fortuna is 17 Aries, conjunct natal Moon;
LR Mars (7 Taurus) is at the LR MC and exactly opposite natal Fortuna at 8 Scorpio (LR IC).
The stars will tell us when something important is going on!
In the next and final post, we will look at the progressed, solar return and lunar return charts for Ms. Houston's death on February 11, 2012.
First published Nov 15, 2012 on silvestreastrology.blogspot.com
PHOTO CREDIT:  By tm_10001, "Whitney Houston in South Africa 1994" (Flickr: CC).