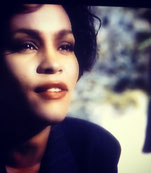 Sometimes charts show us very simple and profound things right away upon initial study.  I think we've got one such chart here. It's the natal chart of the late Whitney Houston.   She was born Aug 9 1963, at 8:55 pm in Newark, NJ (8 Pisces Asc; chart below).
What was Whitney Houston best known for?  Silly question, I know.  Yes, her voice!  Surely hers was one of the great singing voices to have graced the Earth.
Pisces rises, making Jupiter her Lord Ascendant.  Jupiter is at 19 Aries, with Moon closely conjunct at 17 Aries.  Jupiter is "me" and the Moon is also "me," as one of the two lights, and they are joined together. 
Take a moment to calculate Jupiter's antiscion. Where does it fall in the chart?  It is at 10 Virgo, exactly conjunct natal Mercury!  Of course, the Moon by antiscion is also conjunct at 12 Virgo. Here we have a picture of two key planets signifying 'Me' closely tied in to Mercury, natural ruler of the voice.
What kind of a voice is it?  Mercury is in Virgo, which it rules and where it is exalted: very strongly dignified.  It is loud-voiced, being in one of three such signs.  It is also on Zosma, a fixed star in the constellation of the Lion.  What kind of a voice does a lion have?  A very powerful one that commands attention!
So the chart gives us the picture of a powerful, dignified voice closely tied in with the singer's very identity. Isn't that amazing?
Here is a link to one of Whitney's greatest hits.  It's best experienced, I think, by ignoring the video and simply listening: http://www.youtube.com/watch?v=GrUqQktzBYg&feature=related
And here is the Lioness singing the American National Anthem at the Super Bowl in 1991.  Magnificent!
http://www.youtube.com/watch?feature=fvwp&v=eS4v431Mlak&NR=1
First published July 31, 2012 on silvestreastrology.blogspot.com
PHOTO CREDIT:  Marta Kat, "Oh Whitney, why did you have to become a crackhead and ruin your life? #vh1classicrules #whitneyhouston." Flickr: CC. Cropped by me.