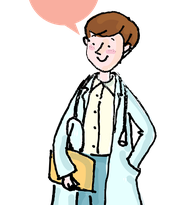 I have some wonderful colleagues in the psych hospital.  We work with patients in psychiatric crisis, which can get quite colorful at times.  It's stressful work, and I am often impressed with the combination of skills and talent that doctors, nurses, and other staff bring to this challenging environment.
One of the docs I work with has a wonderful manner with his patients.  He is kind and gentle, listens patiently, and is able to explain things in simple and understandable terms.  His patients—even the very challenging ones—seem to love him.  One of them used to express these feelings by asking him, "Why are you so cute?" :) 
Of course, he recognized this as transference and would deflect the question appropriately.
When I first began to observe this man's work, I thought, "He must have a very well-functioning tenth house." (As the reader may know, I tend to see things in astrological terms.)   Eventually, as we became friends, I worked up the courage to ask for his birth data.  He was kind enough to tell me, and has given me permission to write about his chart here.
Sure enough, Dr Cute's tenth house of career is in great shape.  Pisces is on the cusp, making Jupiter Lord 10. Jupiter is in Pisces, one of its own signs.  It is placed in the ninth, one of its own houses.  Jupiter also rules the sixth house of illness and hospitals, places people work to help those who are ill.
The Lord of the Geniture is the planet with the most essential dignities in a natal chart.  Jupiter serves this role here as well.  The Sun and Venus, both in Sagittarius, dispose to it.  This is good news, as it gives Jupiter even more sway in the chart and the life.  For the icing on the cake, Lord 7, Saturn, is in the first house and exalts Jupiter.  Yes, people love this guy!  His patients hold him in high esteem, and it is well deserved.
First published June 29, 2012 on silvestreastrology.blogspot.com
PHOTO CREDIT: Pixabay (CC0)