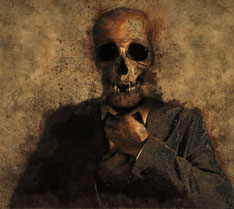 Last summer I had the pleasure of attending two rock concerts for the first time in decades, courtesy of my dear daughter.  Her daddy, an old hippie, has been cultivating her taste for rock music old and new to their mutual delight. (I'm having fun, too, but it's their gig.)  One of the concerts was Linkin Park on tour promoting their latest album, Living Things.
I discovered Linkin Park's music by way of their fourth album, A Thousand Suns, which I love and intend to write about one of these days.  Today I'm sharing a tune from Living Things that captures the essence of our planetary Big Bad Guy, Saturn.
Skin, bones, time, decay, death: these are all within Saturn's purview.  Saturn is the top of the planetary food chain, lord of the material realm.  Saturn brings us into our physical bodies and, as the Grim Reaper, takes us out again when 'our name is drawn'.
The lyrics below are quintessential Saturn stuff, with Mars themes of ruptured relationships and anger mixed in.  (Be warned: this is not pretty, and it's not nice.)  The two malefics make a great pair here, so if the spirit moves you, turn up the volume and rock out!
SKIN TO BONE by Linkin Park (from Living Things, 2012)
Skin to bone / steel to rust
Ash to ashes / dust to dust
Let tomorrow have its way
With the promises we made
Skin to bone and steel to rust
Ash to ashes / dust to dust
Your deception / my disgust
When your name is finally drawn
I'll be happy that you're gone
Ash to ashes / dust to dust
ASH TO ASHES / DUST TO DUST
SKIN TO BONE AND STEEL TO RUST
Right to left / left to right
Night to day and day to night
As the starlight fades to grey
I'll be marching far away
Right to left and left to right
ASH TO ASHES / DUST TO DUST
SKIN TO BONE AND STEEL TO RUST
Let tomorrow have its way
With the promises betrayed
Skin to bone and steel to rust
Skin to bone and steel to rust
Skin to bone and steel to rust
You can listen to the music here:  
http://www.youtube.com/watch?v=3OYdeuj3EOw
First published Jan 8, 2013 on silvestreastrology.blogspot.com
PHOTO CREDITS: Images above and are from Pixabay (CC0).  The logo for the Living Things album is By Source, Fair use, https://en.wikipedia.org/w/index.php?curid=35515193