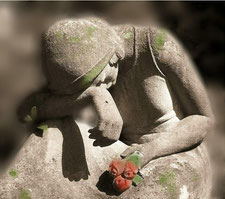 Two thousand nine was a terrible year for my client, whom we'll call Lee.  In May of that year, Lee experienced an event she calls "a horrifying random act of violence."  Two months later her mother passed away from illness.  Her father, distant to her, also died that year.
What kind of testimonies might we find in such a year?  By studying the charts we can discover how astrology speaks to us of life's major events.  Lee has graciously given me permission to share my study with you. 
On May 17, 2009 Lee was at a full-service gas station in her home town having her car checked.  She was out running errands in preparation for air travel the next morning to see her mother, who was in hospital.  It was a Sunday, under beautiful blue skies; she was enjoying a cup of coffee waiting for the serviceman to complete his work.  He was finishing up; did she need anything else?  Yes, could he please check the pressure in the front left tire?  There had been a slow leak.
The worker knelt down to begin the check.  She remembered hearing the rev of an engine; then, as if from nowhere, a car came crashing into him.  He died a few hours later.
"This completely changed my life," Lee said. "I could not process it."
Lee's birth chart is the first in the gallery below (data withheld for privacy).  We are not doing a natal analysis here but will simply compare the progressions and returns against this radix.  It seems worth noting, however, that Algol falls on the natal sixth cusp, with natal Mars conjunct the cusp as well.  The sixth house signifies the nasty things that we experience through no fault of our own.
Progression to Jan 1, 2009 (Naibod in RA)
Prog Asc 6.36 Aquarius
Prog MC 28.21 Scorpio
Prog Sun 7.31 Taurus
Prog Moon 15.12 Aries
Prog Fortuna 14.17 Capricorn
In a year so full of significance it might be difficult to sort out what is what in the testimonies.  With this in mind, we will simply identify testimonies as a starting point for further study.
Progressions are not exact in their timing.  I cast them for the start of the calendar year, a habit established during my natal apprenticeship.  This way we are able to see where the Moon, Fortuna ('super Moon') and Spirit ('super Sun') begin the year (each moves about 12 degrees in a year's time, with Spirit moving in the opposite direction of the other two).  Alternately, we can choose to progress a natal chart to a specific date when we have one.
Remember that we never analyze progressions as a chart, because these are points, not a chart per se. Instead, we compare progressed points and planets against the radix, starting with Asc, MC, Sun, Moon, and Fortuna.  Other things may stand out in a given year, but we start with these.
What might we expect to find?  If we begin a list, we soon see that six of the seven planets could be involved. The Sun and the Moon are both 'me,' as is Jupiter, Lord Ascendant.  The Moon is also natal Lord 8, signifying death; Venus is Lord 6 (people we pay to work for us) and Lord 10 (mother).  Mars and Saturn are the natural rulers of accidents and death, respectively.
Here are the testimonies from the progression:
- Progressed Ascendant is 6 Aquarius; its antiscion is 23 Scorpio, closely opposite natal Mars on the natal sixth cusp.  Right away we see that Mars is speaking up.
- Progressed Sun is 7.31 Taurus; its antiscion is 22.29 Leo, square natal Mars.  Progressed Sun is on Hamal, a star of Mars-Saturn nature in the constellation of Aries.
- Progressed Moon begins the year at 15.12 Aries; its antiscion is 14.48 Virgo, applying to square natal Saturn (which I see here as natural significator of death).
- Progressed Fortuna begins the year at 14.17 Capricorn; its antiscion is 15.43 Sagittarius, applying to conjunct natal Saturn.
- Part of Spirit is 28.56 Aquarius.  This falls by antiscion onto Progressed Neptune, 01.04 Scorpio, exact to the minute of arc.  Spirit as 'Super-Sun' is another significator of 'me'.  Neptune signifies the ocean: vast, turbulent and overwhelming.  I have seen Neptune show up in situations involving emotional trauma, as it does here. My teacher calls Neptune the Earth-shaker, which captures the idea perfectly.
- Prog Mars is at 25.53 Gemini, conjunct the fixed star Al Hecka, the Bull's Horn.  This star is associated with fatal car accidents.  Although for two years prior Mars was even closer to this fixed star, it seems that this year (2009) is the year where its potential became manifest in Lee's life. Even though the accident did not happen to her, witnessing it was traumatic.
Solar Return for 2009 (24 Leo Asc)
Like the progressions, Lee's 2009 Solar Return (SR) covers all of the events in question.
- Neptune sits right on the Descendant at 24 Aquarius, with Mars conjunct just below it, both squaring Lee's natal Mars at 23 Taurus.  
- The Sun, which is also SR Lord Asc, falls directly onto the eighth house cusp. The Sun does not move in a Solar Return, so it sits in this position all year, as if putting a major spotlight on the theme of death.
- Venus, which plays both the role of the worker (natal Lord 6) and Lee's mother (natal Lord 10) is on cusp 9 ('the great voyage'), square natal Saturn and the natal Asc/Dsc axis by antiscion.  Antiscion SR Venus and SR Saturn (SR Lord 6) are applying to conjunction, and Venus also applies to sextile SR Lord 8, Jupiter (13 Aquarius).  
- The SR Moon, at 20 Cancer, sits on the natal eighth house cusp.  This is a similar testimony to the Sun sitting on the SR eighth cusp; or this can be seen as natal Lord 8 sitting in its own house.  Again, this seems to emphasize the theme of death this year.
- SR Jupiter (natal Lord Asc) falls right on the SR IC by antiscion (13.58 Aquarius/16.02 Scorpio). As the lowest point in the chart, the IC is a difficult place to be.
Lunar Return of Apr 25, 2009 (20 Sag Asc)
This is the month of Lee's trauma in witnessing the worker's death.
- LR Venus (natal Lord 6) has just entered its detriment in Aires, signaling a huge loss of dignity. This is something we can see at the time of death.
- Antiscion South Node is 25 Taurus, falling right on the natal sixth cusp.
- MC is 12 Libra, picking up Lee's natal Spirit/antiscion Sun conjunction. Normally we think of Spirit or Sun at the MC as positive, but perhaps here it is signaling the public nature of the accident.
- LR Mercury, Lord 6, is conjunct the LR South Node by antiscion, and therefore also conjunct natal Mars/sixth house cusp.
- LR Uranus is 24 Pisces, conjunct the natal MC by antiscion.
Derived lunar return (DLR) April 30, 2009 (26 Pisces Asc)
This is a lunar return cast from the 2009 Solar Return.  Derived returns are additional charts to examine for major events.  Sometimes the testimonies in these derived returns speak even more powerfully than in the conventional LRs, so it is worth taking a look.  A few testimonies here seem important:
- DLR Dsc (26 Virgo) picks up natal Jupiter, with the MC/IC axis exactly square at 28 Sagittarius/Gemini.
- DLR Saturn at 15 Virgo squares the natal Asc/Dsc axis, putting Saturn in a kind of spotlight position.
- Uranus sits right on the Ascendant.
The events of 2009 resulted in a diagnosis of Posttraumatic Stress Disorder for Lee.  She required therapy to help her heal from the trauma and losses.  Thankfully, last fall saw the conclusion of a court case resulting from the accident, bringing her some much-needed closure. I am happy to report that she is doing very well now.
Warm thanks to Lee for her willingness to share this personal information for the learning it offers.
First published Jan 28, 2013 on silvestreastrology.blogspot.com
PHOTO CREDIT: Pixabay (CC0)