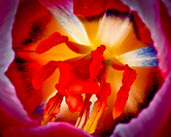 Sylvia Plath took her own life on February 11, 1963.  She had been battling depression and physical illness during a brutally cold winter, living alone with her two small children.  What are the signs in her unfolding charts that her life was in danger?
Plath's natal chart is the first in the image gallery below, followed by the solar, lunar, and derived lunar returns for the event of her death.
Progressions to January 1, 1963
Prog Asc 21.25 Aries
Prog MC 11.07 Capricorn
Prog Sun 4.31 Sagittarius
Prog Moon 19.28 Scorpio
Prog Fortuna 6.22 Aries
Prog Spirit 6.28 Taurus
The 22nd degree of Aries (21.00 to 21.59) is the beginning of Mars terms, putting 'Mars stuff' onto the main stage for this year.  Mars plays an important note in Plath's natal chart because it is square natal Mercury (which, together with the Moon, signifies perception and mental functioning) and because of its mixed reception with natal Lord 1, Saturn (Saturn exalts Mars, while Mars takes Saturn into detriment).
The progressed Moon, moving 12-13 degrees in a year's time, will move out of its fall during this year.  This could be seen as an improvement for Plath's 'Me'.  However, after the Moon moves into Sagittarius it will conjunct natal Saturn--the natural significator of death--by antiscion (28.38 Capricorn/1.22 Sagittarius).
Progressed Venus (29.58 Libra) is about to lose dignity.  Even though Venus is not in the role of 'Me' for Plath, this imminent drop in dignity seems noteworthy because of the prominent natal patterns involving Venus and the Part of Love (Venus opposes Spirit, the Moon opposes Venus by antiscion, and Love is conjunct both Uranus and antiscion Neptune).  I believe the loss of dignity shows us that Plath's situation in general is taking a turn for the worse.
Progressed Love (21.31 Taurus) begins the year opposing natal Mercury (21.28 Scorpio) and squaring natal Mars, touching on this important natal pattern.
Progressed Fortuna (6.22 Aries) begins the year exactly conjunct Natal Venus by antiscion (6.22 Aries).  During this year Fortuna will cross progressed Jupiter by antiscion (20.35 Virgo/9.25 Aries), then the progressed South Node (13.25 Virgo/16.35 Aries). It will reach progressed Uranus (19.52 Aries) and Neptune (10.07 Virgo/19.53 Aries) by year's end, the latter by antiscion.  This has the feeling of a multi-car crash for Plath's Fortuna, 'Me'.
Solar Return – October 27, 1962
SR Lord 1, the Moon (28.59 Libra), is about to enter its fall.  Once in Scorpio the Moon is combusted by the Sun and then completes its cycle when conjuncting the Sun at New Moon.  These are eloquent and potent testimonies of a downturn ending in death.
The SR South Node (4.22 Aquarius Rx) and SR Saturn (5.02 Aquarius) fall close to natal Fortuna (3.42 Aquarius).  Saturn is SR Lord 8.  Also conjunct these is SR Venus by antiscion (27.08 Scorpio/2.52 Aquarius).   All square the Sun (4 Scorpio), although Saturn is separating from it (remember that the Sun, as the Sun, in a SR does not move). Even though separating from both Fortuna and the Sun--Plath is not already dead when her solar year begins--Saturn's presence here nevertheless seems ominous.
Natal Arc Spirit (8.55 Leo, 'Me') is closely conjunct SR Mars (8.06 Leo), with Mars as natural significator of a violent act or event.
Natal Arc Love (4.34 Virgo) is closely conjunct SR Uranus (4.25 Virgo), highly significant given that Love and Uranus are conjunct in the natal chart.  The repeating of a key natal pattern is one way the stars have of showing us an important time or event in the life.
Natal Arc Necessity (21.58 Taurus) opposes natal Mercury (21.28 Mercury).  This double-dose of Mercury seems to speak of choice and limitation.  Once any choice is made, all other possibilities moving forward are eclipsed.  This is especially so with suicide.
Note that the SR MC (21.11 Pisces) picks up the natal Moon by antiscion (8.30 Libra/21.30 Pisces).  This is not a testimony of death but it does put the Moon, 'Me', in a major spotlight for this solar year.
Lunar Return – January 16, 1963
The LR MC/IC axis picks up Plath's natal Asc/Dsc almost exactly, with the natal Dsc (29 Leo) at the return MC.  This is another way the stars' have of telling us, "Pay attention!"
LR Mars (21.50 Leo Rx) is very close to its natal position.  A planet returning its natal degree marks a time when the matters signified by that planet come to the fore: 'Mars stuff' will play out this month.
LR Lord 8, Mercury (4.28 Aquarius Rx) applies to conjunct natal Fortuna (3.42 Aquarius), showing death coming to 'Me'.
Natal Arc Love (8.53 Capricorn) is on Facies and therefore also conjunct natal Necessity (8.03 Capricorn).  Facies is a fixed star with violent significations that has been known to show up at the time of death.
Natal Arc Spirit (13.14 Sagittarius) is conjunct the natal MC (13.44 Sagittarius), putting 'Me' in a major spotlight.
Natal Arc Fortuna (21.56 Libra) is conjunct Plath's natal Love/Uranus/Neptune conjunction, picking up on this key pattern in Plath's essential structure as an individual.
LR Sun (25.25 Capricorn) is just five degrees from the sign of its detriment: things are going down for 'Me'.  On its way into Aquarius the Sun will conjunct the restrictive South Node (29.40 Capricorn) and will then conjunct Mercury, LR Lord 8 (4.28 Aquarius, moving retrograde).
The antiscion of LR Saturn (11.39 Aquarius/18.21 Scorpio) falls onto the LR Asc (17.35 Scorpio).  This shines a major spotlight on Saturn, the natural significator of death. LR Neptune is close by (15.23 Scorpio), showing this to be a time when Plath's earth is shaken.
Derived Lunar Return – cast from the Oct 1962 Solar Return
This derived LR falls just a day after the conventional LR, so some of the testimonies will be similar.  Here are two further testimonies:
The DLR Moon (28.59 Libra/1.01 Pisces) falls onto this Dsc by antiscion (2.09 Pisces), as if it were setting (symbolic of death).
DLR Lord 1, Mercury (2.41 Aquarius Rx) is conjunct natal Fortuna (3.42 Aquarius).  Both fall by antiscion onto the DLR IC (26.31 Scorpio), the lowest point in any chart.  While not by themselves indicative of death, combined with the other testimonies this gives a picture of hitting bottom.
Sylvia Plath was a shining star whose earthly light went out too soon.  Rest in peace, brave poet!
KEY FOR ABBREVIATIONS
Asc = Ascendant (1st house cusp)
DLR = Derived lunar return
Dsc = Descendant (7th house cusp)
LR = Lunar return
MC = Midheaven (10th house cusp)
Prog = Progressed
SR = Solar return
PHOTO CREDITS
Above and below, "Tulips should be behind bars like dangerous animals" by jar [o].  Below, "Happy Birthday Sylvia!" by Simon James, and "Ted Hughes and Sylvia Plath" by summonedbyfells.  All are used under a CC license (from Flickr).