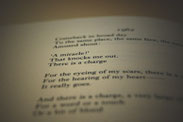 In this post I will briefly discuss the testimonies in Sylvia Plath's directed charts for her father's death on November 5, 1940.  Plath was just eight years old when he died.  By all accounts his death was a watershed event for her, triggering the depressive tendencies that plagued her throughout her life.
Before we begin, there is an important natal testimony that I neglected to mention in my first post.  This is the tight, just-separating square between Mercury and Mars, its dispositor, from within fixed signs.*  This square seems to capture, among other things, the crisp, cutting quality of Plath's later poems.  Her daughter, Frieda Hughes, refers to these as "[…] pared down to their sharpest points of imagery and delivered with tremendous skill."**
I also wrote of two important oppositions in Plath's radix involving Venus. Venus opposes Spirit (super-Sun, 'Me'), while the Moon (also 'Me') opposes Venus by antiscion.  One accidental role of Venus is that of Lord 8, Death.  Seen in this way, it is as if Death is forever confronting her.  These oppositions also speak to the ongoing conflict Plath felt between her desire to be a good girl/wife/mother and her desire to be an accomplished writer.  These two goals don't seem entirely mutually exclusive to woman today, but for many women of Plath's generation, they did.
Plath's natal chart, her Solar Return for 1940, and and her Lunar Return for the month of her father's death appear in the gallery below.
Secondary Progressions to Jan 1, 1940 (year of father's death)
Progressed Asc = 11.13 Pisces
Progressed MC = 20.17 Sagittarius
Progressed Sun = 11.20 Scorpio
Progressed Moon = 25.04 Capricorn
Progressed Fortuna = 24.57 Taurus
Progressed Spirit = 27.29 Sagittarius
Progressed Love = 13.45 Libra
The testimonies for her father's death in these progressions are plentiful.  To start, progressed Mercury, natal Lord 4 (father), falls on the natal Saturn (natural significator of death) by antiscion (28.38 Cap/1.22 Sag). 
The progressed MC (20.17 Sagittarius) picks up natal Necessity by antiscion (8.03 Capricorn/21.57 Sagittarius).  This puts Necessity—the Mercury part—in a cosmic spotlight.  Necessity is relevant because it signifies "where the shoe pinches," as my teacher has said.  I have seen Necessity highlighted in situations of great loss, where hopes and dreams must be abandoned.
The progressed Moon starts this year conjunct the fixed star Terebellum, associated with fatedness.  It will conjunct natal/progressed Saturn (both 28 Capricorn), then natal Fortuna (3.42 Aquarius) and the antiscion of natal Mercury (21.28 Scorpio/8.32 Aquarius) by the year's end.  Together these form a kind of collision course for the Moon (as 'Me', the emotional self in particular).
The progressed NN (15.26 Pisces Rx) is conjunct progressed Love, the Venus part, by antiscion (13.45 Libra/16.15 Prices), both opposing the natal Jupiter/SN conjunction (16 Virgo).  The NN serves to put Love in a spotlight.  It is on the fixed star Algorab, significant for the theme of a thirst that can never be quenched, as if her father's death diminishes Plath's capacity for joy and abundance in a permanent way.
Progressed Spirit ('Me') begins the year at 27.29 Sagittarius and (moving clockwise against the zodiac) will cross the antiscion of natal Necessity (8.03 Capricorn/21.57 Sagittarius) and the prog MC (20.17 Sagittarius) as it proceeds through 1940.
Solar Return – Oct 27, 1940
There are plentiful testimonies here, too, as we might expect after such an abundance in the progressions.
Solar Return Mercury is conjunct the SR Midheaven, putting Mercury--natal Lord 4--in a major spotlight.  Mercury is also SR Lord 8, Death.  Mercury is closely conjunct natal Fortuna (super-Moon, 'Me') by antiscion (3.42 Aquarius/26.18 Scorpio) again showing father's death hitting home emotionally.
This theme repeats in three similar testimonies:
- The SR Moon ('Me') moves to conjunct SR Venus (natal Lord 8);
- The SR Asc ('Me', 29.44 Capricorn) picks up natal Saturn (death, 28.38 Capricorn);
- Natal Arc Captivity (4.48 Aquarius), the Saturn part, is conjunct natal Fortuna (3.42 Aquarius);
- The SR South Node (10.55 Aries), which restricts, is conjunct the SR Moon (10.23 Aries).
Also noteworthy is SR Uranus falling on the SR IC (4th house cusp)—an appropriate place for Uranus--the father of Venus--to be, as the 4th house signifies the father.  Because of its prominence in her natal chart, where it is conjunct Love (super-Venus), Uranus seems almost to serve as an additional symbol of 'father' for Plath.
Lunar Return for Oct 28, 1940 (Father's death on Nov 5, 1940)
Note that this Lunar Return falls just one day after Plath's Solar Return for 1940. 
LR Lord 4, the Sun, applies to oppose LR Lord 8, Saturn, showing death coming to father.  Another testimony of this is LR Mercury (27.30 Scorpio), natal Lord 4, applying to sextile natal Saturn (28.38 Capricorn).  Mercury is also conjunct natal Fortuna by antiscion (3.42 Aquarius/26.18 Scorpio).
The LR Midheaven (27.48 Aquarius) picks up the natal Ascendant (29.21 Aquarius) and also the natal Sun by antiscion (4.09 Scorpio/25.51 Aquarius).  In a daytime chart, the Sun is an additional symbol of Father as well as a major symbol of 'Me'. 
Natal Arc Necessity (2.22 Taurus) falls by antiscion on the LR IC (27.48 Leo), another spotlight position.  Natal Necessity (8.03 Capricorn/21.57 Sagittarius) falls by antiscion near the LR Dsc (23.40 Sagittarius).
In the next post we will take a look at two key dates that fall after Plath's death: the publication of Ariel in 1966 and of The Collected Poems in 1982.  She won the Pulitzer Prize for the latter, the first poet to be awarded a Pulitzer Prize posthumously.
To read some of Sylvia Plath's poems, consider these links:
http://www.poetryfoundation.org/poems-and-poets/poets/detail/sylvia-plath
https://www.poets.org/poetsorg/poet/sylvia-plath
NOTES
*My thanks to colleague Marcos Monteiro for bringing this omission to my attention.
**Frieda Hughes, author of the Foreword in Ariel, the Restored Edition (2004). New York: Harper Collins, p. xv.
PHOTO CREDIT
The photo appearing above is by s., "Plath" (Flickr: CC licensed).