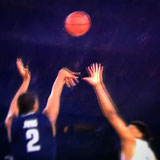 Hey, sports-astrology fans!  I have an event chart to share with you!  It's the tip-off chart for Monday night's NCAA Men's Basketball title game between the North Carolina Tar Heels and the Villanova Wildcats.  I usually post the chart for the NCAA final on my blog (links to previous posts below), but I was swamped this year and didn't get to it.  I have to kick myself, because had I posted the prediction, I could have celebrated getting it right!
The title matchup was scheduled for 8:19 p.m. on Monday, April 4, 2016 in Houston, Texas (chart here and in the gallery below).  North Carolina was favored over Villanova, who hadn't won a championship match since 1985.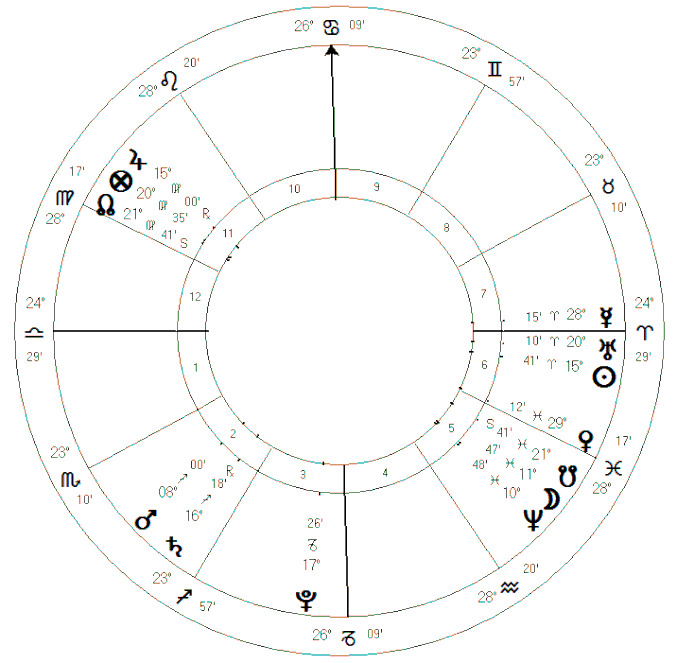 My indispensable reference for these charts is John Frawley's Sports Astrology (aka The Pink Book).  For this chart pages 80-87 are especially relevant.
The favored team gets Lord 1 (for the team itself) and Lord 10 (for their 'prize' of winning).  The underdogs get Lord 7 (for the their team) and Lord 4 (for their 'prize' of winning).  In this chart we have to manage without a ruler for the 10th house, though, because Lord 10 is the Moon (as ruler of Cancer on the 10th house cusp).  It is more important to keep the Moon as the flow of events. 
So: North Carolina gets Lord 1 (Venus), and Villanova gets Lord 7 (Mars) and Lord 4 (Saturn).  There's no disadvantage in North Carolina having just one planet; if they are going to win, the chart will find a way to show this.
Lord 1, Venus, is exalted, but that doesn't matter: we pay no attention to essential or accidental dignities in sports event charts.  After checking the house placement of Lords 1, 4, 7, and the Part of Fortune—which here tells us nothing—the next step is to check for aspects to or from the Moon as the flow of events.  In this chart, the Moon (11.47 Pisces) moves first to oppose Jupiter (not relevant, as Jupiter is not on stage here).  The Moon's next aspect is a square with Lord 4, Saturn (16.18 Sagittarius Rx).  This is within the 5-degree parameters for a basketball game.  Moon to Lord 4 means the underdogs, Villanova, will win.  And so they did!
Nova won the game with a 3-point shot at the buzzer—an incredible finish, especially as Carolina's Marcus Paige hit a 3-pointer to tie the game with just 4.7 seconds remaining!  If Carolina had held on for 4.7 more seconds, the game would have gone into overtime.  But Villanova had possession, and Ryan Arcidiacono got the ball to Kris Jenkins, who put up a 3-pt shot at the buzzer for the win (Villanova 77, North Carolina 74).
This will be remembered as one of the greatest NCAA title games in the history of the league.  I'm so glad to have seen it!  And glad, too, for yet another example of the marvels of the Real Astrology!
Here are my posts from the NCAA title games in 2015 and 2014:
http://www.kathrynsilvestre.com/2015/04/07/heartbreak-for-the-badgers/
http://www.kathrynsilvestre.com/2014/04/07/nope-uconn-wins/
PHOTO CREDITS
Above and below: Marctasman, #buzzer #ncaa #championshipgame #championship #villanova #unc
via Instagram ift.tt/2286Pgc (Source: Flickr).
Below: James W. Neal, "Marcus Paige Last Shot at UNC" (Source: Flickr).