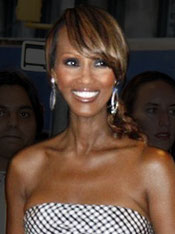 In the previous post we looked at Mr Bowie's directed charts for 1990, the year he met and fell in love with Somali supermodel Iman Abdulmajid.  In today's post we will look at the testimonies in his directed charts for their marriage in 1992.  They celebrated twice that year, first on April 24, then on June 6 to solemnize the marriage.
Remember that when we look for evidence of love and marriage in an individual's directed charts we can expect, among many possibilities, some involvement of Lord 1 and Lord 7, along with any of the major male/female pairings.  These include Sun/Venus and Sun/Moon, along with their corresponding Arabic Parts: Fortuna ('super-Moon'), Spirit (aka Abundance, 'super-Sun'), and Love ('super-Venus').  Love's counterpart, Necessity ('super-Mercury'), may show up as well.
Mr Bowie's birth chart appears below (Chart 1). You will recall that the Moon (3.49 Leo) is in tight conjunction with the Dsc (3.06 Leo), so whenever the Asc-Dsc axis is activated the Moon will be, too.  Bowie's Sun (17.14 Capricorn), which is also Lord 7, opposes Spirit (16.31 Cancer), with the natal nodes conjunct these two by antiscion (North Node with Spirit, South Node with the Sun).  Again, when one side is activated, the other will be also.
Secondary Progressions to January 1, 1992
Prog Asc 5.54 Taurus
Prog MC 5.11 Aquarius
Prog Sun 2.53 Pisces
Prog Moon 17.52 Pisces
Prog Venus 17.40 Capricorn
When examining progressions, we are not looking at a chart, per se; we are looking at specific personal points to see where these fall against the natal radix.  
One testimony leaps out at a glance here:  progressed Venus (17.40 Capricorn) is conjunct the natal Sun (17.14 Capricorn).  This is a classic testimony for marriage and is pretty much all we need to see!  But, of course, there is more.  Progressed Sun (2.53 Pisces) squares natal Venus (2.08 Sagittarius), in another linking of Male and Female.  Prog Venus (17.40 Capricorn) sextiles prog Moon (17.52 Pisces), the latter in the role of 'Me'.
During calendar 1992 prog Fortuna will move from 20.53 Taurus to about 3 Gemini, crossing natal Lord 1, Saturn, by antiscion (6.51 Leo/23.09 Taurus), for another expression of two joining as one.  Prog Fortuna will end the year opposing natal Venus (2.08 Sagittarius), an aspect that could be showing the spouses sorting things out as they settle down together.  Finally, prog Love (5.56 Aries) trines natal Saturn, 'Me' (6.51 Leo Rx).
Solar Return – January 8, 1992 (Chart 2, below)
The SR Asc for 1992 is 29.54 Sagittarius; SR Lord 7, Mercury, is closely conjunct (27.31 Sag).  Both are also conjunct natal Love (29.56 Sagittarius), showing Love, 'Me' and 'You' all joining together.  What a beautiful testimony for marriage!  Note that SR Mars is also close by (29.10 Sagittarius), perhaps showing the effort of settling into a new life.
Note that Neptune is conjunct the Sun in this SR.  Neptune is the Earth-shaker, testimony that the marriage is an event of immense importance in Mr Bowie's life.
Natal Arc Fortuna (15.29 Cancer) is conjunct both natal Spirit (16.31 Cancer) and Natal Arc Spirit by antiscion (12.19 Gemini/17.41 Cancer), clear testimony of Female and Male joining together in joy.  By virtue of the natal patterns, all three also oppose the natal Sun (17.14 Capricorn). 
Natal Arc Necessity (2.04 Aquarius) in this SR falls on the natal Asc (3.06 Gemini) and therefore opposes natal Moon (3.49 Leo).  Necessity signifies the one choice that rules out all other possibilities moving forward.
SR Saturn (6.40 Aquarius) opposes natal Saturn (6.51 Leo Rx), which seems to express both a culminating phase in general and a facing of oneself at the start of a major commitment.
The SR Moon (23.08 Aquarius) falls by antiscion within a few degrees of the SR MC (4.01 Scorpio), putting 'Me' and/or 'Significant Female' in big spotlight in the public house of the chart.
Lunar Return for June Ceremony – June 4, 1992 (Chart 3, below)
I looked at the Lunar Returns for both of the marriage ceremonies, April 24 and June 6.  The June LR offers more convincing evidence of the marriage.  Added together these are impressive testimonies!
The LR Asc (12.22 Sag) picks up the natal Sun, natal Lord 7, by antiscion (17.14 Cap/12.36 Sag).
The North Node (0.52 Cap) is conjunct natal Love by antiscion (29.56 Sag/0.04 Cap), putting the latter in a major spotlight.
LR Venus (12.00 Gem) and LR Sun 14.25 Gem) are spotlit at the LR Dsc (12.22 Gem), with Venus applying to conjunct the Sun.  All three pick up the natal North Node (11.18 Gemini) along with natal Solis ('Abundance') by antiscion (16.31 Cancer/13.29 Gemini).  
Natal Arc Solis (25.47 Taurus) is conjunct the natal Moon by antiscion (3.49 Leo/26.11 Taurus), in another expression of Male and Female joining together.
Natal Arc Fortuna (28.57 Gemini) opposes natal Love (29.56 Sagittarius); this seems an echo of the opposition between Fortuna and Venus in the progressions.
LR Saturn (18.26 Aquarius), 'Me', is conjunct Natal Arc Love by antiscion (9.12 Scorpio/20.48 Aquarius).
 To learn more about the Bowie-Iman love story:
http://www.etonline.com/news/179862_david_bowie_and_iman_romance_timeline/
https://davidbowienews.wordpress.com/2012/04/24/david-bowie-iman-married-for-20-years/
http://www.eonline.com/news/730322/inside-david-bowie-and-iman-s-enduring-love-story
And one of the latest articles, which includes a beautiful photo of the couple:
http://www.vanityfair.com/hollywood/2016/01/david-bowie-left-half-his-fortune-to-iman-and-wants-his-ashes-scattered-in-bali
KEY FOR ABBREVIATIONS
Asc = Ascendant (1st house cusp)
Dsc = Descendant (7th house cusp)
LR = lunar return
MC = Midheaven (10th house cusp)
Prog = progressed
SR = solar return
 PHOTO CREDITS
The photo above is by Arthur from Westchester County north of NYC, USA, at Arthur@NYCArthur.com derivative work: Jorge Barrios (Iman_(model).jpg) [CC BY-SA 2.0 (http://creativecommons.org/licenses/by-sa/2.0)], via Wikimedia Commons.
#1 below is by Deram/London Records - Billboard, page 28, 30 September 1967, Public Domain.
#2 below is by By Jeffchat1 - Own work, Public Domain.
#3 below is from Reuters/Mike Segar: David Bowie and Iman at the Council of Fashion Designers of America (CFDA) 16th Annual Awards Gala in New York on February 3, 1997.