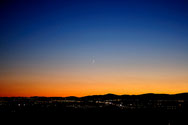 This year I'll be writing a brief piece about each new and full moon, looking at the charts for points of interest relative to dignity and reception.  This is for learning purposes, and it's also fun.  We just had a New Moon on January 19/20, so let's take a look at the chart set for Milwaukee, Wisconsin where I live.
The Moon-Sun conjunction falls at 0 Aquarius.  Ah, interesting: Moon has just left its detriment in Capricorn, so it's feeling better.  It's relieved to be out of that uncomfortable sign.  Sun, however, has just entered its detriment, so it's feeling worse, with 29 degrees to go.
In any chart it's important to look for immediate changes in reception, up or down.  These will speak to the planet's motivations relative to moving forward.  Moon is ready to move on, with no desire to look back.  Sun, on the other hand, wants to look back; things were better in Capricorn, even though Sun had only minor dignity there (face).
Five of our seven planets are in this chart's first house!  Saturn rules four of these: Moon, Sun, Mercury, and Venus.  We could say that they are in the Saturn camp, taking orders from Saturn, so to speak.  The fifth is Mars; he's in the Jupiter camp.  Saturn has a lot of power and influence, then.  But note that Saturn itself is ruled by Jupiter, which by reception brings Saturn down.  Because of this dynamic Jupiter has the upper hand between them.
Look again at Saturn.  It's at 2.39 degrees of Sagittarius.  Its antiscion, then, is 27.21 Capricorn—falling right on the Ascendant, which it rules.  Saturn's also conjunct the Part of Fortune, because the latter is always exactly conjunct the Ascendant at new moon.
Moon is Lord 7 in this chart.  Imagine this to be a relationship horary for a moment; who does Moon love?  Lord 1, Saturn.  Saturn has no feelings for Moon in return, though.  The situation is even worse for Mercury, as we saw two weeks ago. Mercury loves Saturn, in a fixed way (Aquarius = fixed air), but that love is entirely unrequited.
How long will Saturn be in Sagittarius before it turns retrograde?  Let's check the ephemeris to see.  In real time Saturn changes direction in March, at 4.56 Sag.  By June it will dip back into Scorpio for a few degrees before leaving that sign for good in September.  Well, at least for another 29 years!
Finally, let's take a look at Mars.  Mars is having its earth shaken by close proximity to fixed-star-like Neptune, who is Poseidon.  The encounter is past, though.  Generally speaking Mars is fairly comfortable in watery Pisces, which it rules by triplicity.
And that wraps up our brief look at the January New Moon!  See you in two weeks for the February Full Moon on February 3rd.
The photo above (and again below) is by Niwasan, "New moon twilight gradient horizontal." Source: Flickr. Used under a Creative Commons license.