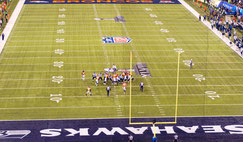 The time has come for another sports prediction!  The game between the Denver Broncos (favored slightly) and the Seattle Seahawks is just about to start.  I've set the chart for today's date, 6:30 p.m., in East Rutherford, New Jersey.  Are you ready?
OMG, some drama already!  First off, the ball went into play at 6:33 p.m.  And guess what?  The sign on the Ascendant has just changed from Leo to Virgo!!!  This means Mercury, not the Sun, signifies the slightly favored Broncos.  Jupiter signifies the Seahawks.  And the Broncos made a bad mistake on their very first play!
I've included both the original chart (anticipated kick-off) and the adjusted chart (actual kick-off), so you can compare.
We're fortunate, I think, in interpreting this chart:  Seahawks will win.  Why?  Because Mercury, signifying the Broncos, is just inside cusp 7.  This means the Seahawks control the Broncos, and should make for a clear-cut win for the Seahawks.  I refer you to page 81 of Sports Astrology by John Frawley, our text for these matters.
This is all for learning, so we'll go with this prediction and take a closer look at the chart after the fact.  Back in a few hours!
Above Photo By MichelinStar - Flickr, CC BY 2.0, https://commons.wikimedia.org/w/index.php?curid=31020615