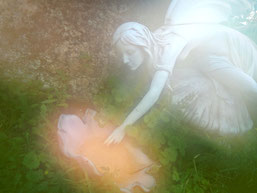 Just now the Moon is waning to new, its phlegmatic phase, and in fixed water Scorpio. On top of that, we are now fully in the melancholic part of the solar year, autumn. Here's a song that fits this combination of moon-cycle and solar-season really well: "Waiting for the End" by Linkin Park.
It's a heart-achy song, no question; so full of regret and longing. Not a good one to tune into if you want to stay cheerful! The most powerful phrase for me is this one:
All I want to do
Is trade this life for something new
Holding on to what I haven't got
Wow.
This impulse to hold on, to cling, is so essentially melancholic!
There's also strong desire in the lyrics, which of course is the phlegmatic part.  The singer wants things to be other than what they are, to have what he doesn't have or can't have, perhaps ever. Very painful!
I'm reminded of the lesson behind the Prometheus myth. Prometheus is the guy who steals fire for humanity and as a consequence gets chained to a rock by the gods and has his liver eaten away each day by an eagle. In traditional astrology we learn that this has to do with the suffering that comes with forethought. Once there's awareness that things can be better or different than they are, pain results. "Waiting for the End" does a beautiful job of capturing that pain, both in words and music.
Below are the lyrics in full, and I've included a link to the song on YouTube as well. Although it's sad, it's a great tune that is well worth a listen.
To end on a positive note: Here's to the good that comes when one cycle ends and the next begins, even when there's pain involved. Spring would never be so sweet if winter did not precede it.
http://www.youtube.com/watch?v=5qF_qbaWt3Q
This is not the end, this is not the beginning
Just a voice like a riot rocking every revision
But you listen to the tone and the violent rhythm
And though the words sound steady something empties within them
We say yeah, with fists flying up in the air
Like we're holding onto something that's invisible there
'Cause we're living at the mercy of the pain and the fear
Until we get it, forget it, let it all disappear

Waiting for the end to come
Wishing I had strength to stand
This is not what I had planned
It's out of my control
Flying at the speed of light
Thoughts were spinning in my head
So many things were left unsaid
It's hard to let you go
I know what it takes to move on
I know how it feels to lie
All I want to do
Is trade this life for something new
Holding on to what I haven't got

Sitting in an empty room
Trying to forget the past
This was never meant to last
I wish it wasn't so

I know what it takes to move on
I know how it feels to lie
All I want to do
Is trade this life for something new
Holding on to what I haven't got

What was left when that fire was gone?
I thought it felt right but that right was wrong
All caught up in the eye of the storm
Trying to figure out what it's like moving on
And I don't even know what kind of things I said
My mouth kept moving and my mind went dead
So picking up the pieces, now where to begin
The hardest part of ending is starting again

All I want to do
Is trade this life for something new
Holding on to what I haven't got
I'm holding on to what I haven't got
Holding on to what I haven't got
PHOTO CREDIT: My own photo :)