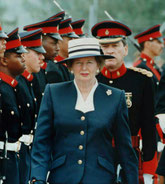 In this last post of the Margaret Thatcher natal study we'll identify the astrological testimonies for her resignation from the post of Prime Minister on November 22, 1990.  I've also included some photos of Mrs. Thatcher over the years from around the web.
Progression to Jan 1, 1990
Ascendant 3.47 Capricorn
MC 11.28 Scorpio
Sun 24.07 Sagittarius
Moon 5.07 Capricorn
Fortuna 14.47 Capricorn
Part of Spirit 22.47 Sagittarius
I was curious to see if the Arabic Part of Dismissal/Resignation would figure in.  The formula is Sat + Jup – Sun, which works out to be 8.45 Aquarius in Mrs. Thatcher's radix (Chart 1 in the gallery below).
Sure enough:  The antiscion of natal Part of Dismissal/Resignation falls right onto progressed Saturn at 21.15 Scorpio, exact to the minute of arc.  Progressed Venus is just past conjunct this part at 9.54 Aquarius.  Venus is natal Lord 7; it's as if the collective seventh house has handed Mrs. Thatcher her pink slip.  Progressed Moon falls on the natal Part of Spirit, which is like a new Moon, and progressed Moon's antiscion is conjunct progressed Sun, both of which square natal Fortuna.  The lights and 'super lights' are strongly engaged here, signaling a watershed time in the life.  Progressed Part of Spirit will cross progressed Mercury, natal Lord 10 (career), during the year.
Solar Return Oct 13, 1990; 8 Virgo Asc (Chart 2)
The SR Moon, 14 Leo, is falls on the natal Dsc by antiscion.  Antiscion of Sun, 10.30 Pisces, also hits the SR Dsc, for a repeat of the same idea:  The lights are setting as Mrs. Thatcher leaves the political scene.  Sometimes we see this at death, but here it is a going off-stage, if you will.  Natal Arc Part of Spirit is 29.14 Libra, falling on the natal twelfth cusp, suggesting that Mrs. Thatcher played a hand in her own downfall.    Natal Arc Fortuna, 12.30 Gemini, is conjunct SR Mars in the LR tenth.  Mars is natal Lord Asc, but it could be acting as a general malefic here.
Lunar Return Nov 10, 1990; 19 Sagittarius Asc (Chart 3)
LR Sun and Pluto are tightly conjunct in the lunar return, both falling near the natal Asc.   LR Mercury, natal Lord 10 and LR Lord 6/7, squares the Moon and is on the verge of entering its detriment: very fitting testimony.  Mercury is conjunct the natal South Node by antiscion, thus in a spotlight.  Natal Arc Part of Spirit is 10 Aquarius, close to the Part of Dismissal/Resignation.  LR Lord 1, Jupiter, falls by antiscion on LR cusp 5, which is 'death of the career' (eighth house from the tenth), and the LR fifth/eleventh axis mirrors the Dsc/Asc in the radix.  Natal Arc Fortuna is 28.53 Libra, conjunct natal twelfth cusp, sextile the Moon, and high in the sky.  Natal Mercury conjuncts this MC.  Because Mercury is on the royal fixed star Spica in the radix, Spica sits at the MC here.  We expect royal stars to show up at times of elevation, but here Spica is prominent at a major downturn.  Perhaps this protects Mrs. Thatcher's image and legacy for the long haul.
Derived Lunar Return Nov 9, 1990; 25 Scorpio Asc (Chart 4)
DLR Sun conjuncts the natal Asc; Algol is on this Dsc (25.44 Taurus).  Mercury, Lord 10 in the natal and here, is angular at the Asc and falls by antiscion on the North Node, a spotlight position.  Uranus is conjunct natal Part of Spirit, as it is in the 1990 Solar Return.  DLR Lord Asc, Mars, applies to square natal Sun by antiscion.  This Moon is the same as in the 1990 SR from which it is derived, so the testimony of Moon conjunct the natal Dsc repeats here.
If it interests you, search the internet for images of Margaret Thatcher over her lifetime.  Some are quite beautiful.  One iconic image (first in the gallery below) shows her with a stern expression, shaking a finger at someone while she speaks; it seems to capture some essence of the sternness that lead her to be known as The Iron Lady.
Photo Credits:
Above
By White House Photo Office - http://www.margaretthatcher.org/multimedia/displaydocument.asp?docid=110852, Public Domain, https://commons.wikimedia.org/w/index.php?curid=3193996
Below
1) By Roy Letkey of Reuters
2) From the Ronald Reagan Presidential Library [1], Public Domain, https://commons.wikimedia.org/w/index.php?curid=965677
3) By White House Photographic Office - http://www.margaretthatcher.org/multimedia/displaydocument.asp?docid=109608, Public Domain, https://commons.wikimedia.org/w/index.php?curid=3189669 (3)
4) From nationalarchives.gov.uk, https://commons.wikimedia.org/w/index.php?curid=40441059