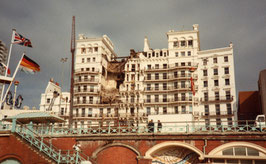 In this series we're looking at progressed and return charts for major events in the life of the late Margaret Thatcher.  The aim is to practice identifying how the astrology speaks to us of what is happening at these important times.   With practice, we develop fluency in this astrological language.  In today's post we'll examine the 1984 attempt on Mrs. Thatcher's life that killed five people and wounded 32 others.
The assassination attempt took place on October 12, 1984, the day of Mrs. Thatcher's solar return that year.  Her natal chart is the first in the gallery at bottom.
Progression to Jan 1, 1984: 
Asc 28.17 Sagittarius
MC 05.25 Scorpio
Sun 18.01 Sagittarius
Moon 11.42 Libra
Fortuna 21.58 Libra
Part of Spirit 04.36 Pisces.
What seems important here is that the progressed MC is in the last degree of Mars terms, a time when Mars stuff will be activated in one way or another.  Here, Mars could be the natural signifier of violence; or we could consider it as natal Lord 6, misfortunes not of our own doing.  Note that the antiscion of Neptune—the Earth-shaker—closely opposes the progressed MC.  The outer planets can be considered as fixed stars when they fall conjunct or opposite key significators.
Because this incident took place on a solar return day, let's look at both the 1983 and the 1984 solar returns for evidence.
Solar Return Oct 13, 1983; 26.49 Scorpio Asc (Chart 2)
This Asc/Dsc is highlighted for our attention because it picks up the natal nodal axis by antiscion.  The Dsc is on Algol, signaling trouble with seventh-house matters.  The MC picks up natal Fortuna, putting it also in a spotlight. 
Look at Mars and Venus here as Lords 1 and 6/7, respectively:  Applying to conjunction, which will perfect at about 20 Virgo, conjunct this MC.  Venus harms and is harmed by Mars because both are in the Virgo, where Venus is in fall.  Natal and SR Lord 10, Mercury, is conjunct the SR IC by antiscion.
Solar Return Oct 12, 1984; 08.17 Pisces Asc (Chart 3)
Several testimonies stand out here.  SR Saturn, as general malefic, falls right on the natal Asc.  Natal Arc Part of Spirit (29.09) picks up natal cusp 6 and closely squares the SR sixth/twelfth axis.  SR Mars, as natural signifier of violence or as SR Lord 8, applies immediately to conjunct SR Lord Asc, Jupiter.  I wouldn't take meaning from this being in Capricorn—Mars' exaltation and Jupiter's fall—because it is five degrees in; but I might be wrong about that.  Mercury, SR Lord 7, is just past conjunction with Sun, while its antiscion falls on the SR Asc.  SR Moon is square the natal Asc/Dsc axis, showing conflict or crisis.
Lunar Return Sep 22, 1984; 07.07 Cancer Asc (Chart 4)
In this chart the natal MC/IC axis is reversed, with Pisces on the MC.  This puts Moon at the bottom of the chart, a difficult place for the Moon to be in a lunar return—and Natal Arc Part of Spirit (27.59 Leo) is conjunct it in that low place.  Note that the Sun has just entered its fall--by three minutes-of-arc!  Natal Arc Fortuna is 16 Taurus, square the natal Asc/Dsc axis, repeating a similar testimony from the 1984 Solar Return.  Antiscion Mars, LR Lord 6, falls on the Dsc; LR Lord 10, Jupiter, is setting just below it.
Derived Lunar Return of Oct 2, 1984 (derived from the 1983 Solar Return); 13.27 Scorpio Asc (Chart 5)
The first thing I noticed here is that all four angles mirror the natal angles very closely.  This is the astrology's way of saying that something important is going to happen this month.
Saturn is conjunct the Asc, but this is true in the radix so not additionally meaningful here.  But look at Mars, Lord Asc:  closely conjunct Neptune, our fixed-star-like Earth-shaker!
Next we'll examine Mrs. Thatcher's resignation in 1990.
Photo Credit (Above):  By D4444n at en.wikipedia - Transferred from en.wikipedia to Commons by User:Sfan00_IMG using CommonsHelper., Public Domain, https://commons.wikimedia.org/w/index.php?curid=5194591