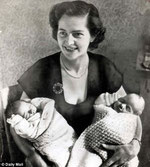 We continue our study of Margaret Thatcher with a look at the progressed and return charts for her year of childbirth.  Mrs. Thatcher's natal chart is the first in the gallery at the bottom of this post (click on the charts to view).
Aug 15, 1953: Gives birth to fraternal twins (boy and girl)
Progression to Jan 1, 1953 gives us the following:  Asc 04.05 Sagittarius, MC 02.48 Libra, Sun 16.40 Scorpio, Moon 27.06 Leo, Fortuna 14.32 Virgo, Part of Spirit 23.39 Aquarius.  Progressed Mars is 27.21 Libra.The Moon, natural ruler of children and childbirth, begins the year very close to its natal position--about a degree away and applying.  This marks a time when the affairs signified by that planet are likely to manifest in the life.  Fortuna, too, will return to its natal position during this year.
The other salient testimony is progressed Mars, natal Lord 1 and 5, applying to sextile natal/progressed Moon ('me' or natural ruler of children).  This shows 'child coming to me' either way you consider it.
Solar Return Oct 12, 1952; 18 Cancer Asc (Chart 2 below)
Mars (natal L1 and L5) is newly exalted at 0.30 Capricorn.  Mars stuff is going up for Mrs. Thatcher!  Any big shifts in essential dignity are important and call for our attention.   It's interesting, too, that Mars has just shifted from a double-bodied sign to cardinal for this year of pregnancy and childbirth.
This SR Asc/Dsc axis (18 Cancer/Capricorn) squares the Sun, which seems to mark this as a critical time and puts the Sun in an extra spotlight.   SR Lord 5, Venus (18.36 Scorpio) applies to trine this Asc; it also falls near the Asc in the natal (three degrees).   Several  other points are in one spotlight or another:  Natal Arc Fortuna (27.46 Taurus) is conjunct the natal nodal axis by antiscion (at the North Node), and the SR Moon (12.16 Leo) is conjunct the natal Dsc by antiscion.
Lunar Return Aug 10, 1953; 13 Sagittarius Asc (Chart 3 below)
Jupiter, LR Lord 1, and Venus, LR Lord 5, apply to conjunction by antiscion here.  LR Mars applies to sextile natal Mars (Lords 1 and 5).   Natal Arc Part of Spirit is 22.45 Libra, exactly conjunct this LR Saturn, which seems important even though it doesn't seem to speak directly of childbirth.  God knows having a child demands commitment and maturity!
Derived Lunar Return Aug 9, 1953, cast from Oct 1952 SR; 13 Virgo Asc (Chart 4 below)
I'm including this chart even though I don't see many salient testimonies here.  Aldebaran is at the MC, perhaps signaling the new season of parenthood for Mrs. Thatcher.  LR Lord 5, Saturn, applies to square Natal Arc Fortuna (in the role of 'me') at 22.58 Cancer.
In the next post we'll look at two years of career advancement for Mrs. Thatcher:  1959, the year she is elected to parliament, and 1979, the year she becomes Prime Minister.
Photo Credit: The above photo is from The Daily Mail (UK).